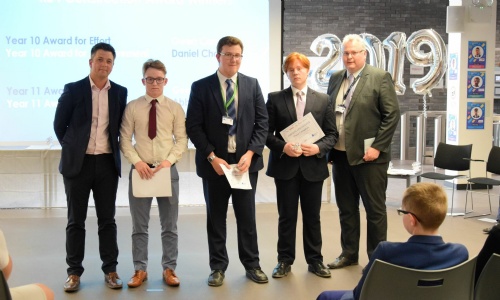 Waterfront UTC hosted their annual Awards Evening on Thursday 11th July, and was delighted to celebrate the achievements and successes of our learners throughout this academic year.
Awards for both Effort and Attainment within specific subjects were presented by representatives from our employer partners (Delphi Technologies, BAE Systems, Redrow Homes and the University of Greenwich), alongside awards for Outstanding Work Experience, Attendance and Student of the Year awards.
When receiving their awards, it was great to hear from our Heads of Departments speak about why our award winners had been nominated.
The Awards presented were in recognition of the students' sheer hard work, resilience to challenges they have faced and their achievements over this past academic year. The awards are a reminder to all students of what each and every student can achieve.
All our students have demonstrated their maturity and professional attitude towards their studies and future careers in Engineering and Construction, we were delighted to celebrate with them during the evening.
It is also important to note that the awards are also a reflection of the support network our students have around them that includes parents, teaching staff, employer partners and external visitors, all of who have had a part to play in their successes.
We would like to express our special thanks to the business sponsors of tonight's technical awards through whose support our learners have developed a great deal to become shining stars of Medway. We are very grateful to our sponsor partners for working with our students this year and presenting them with awards this evening. This is what makes us unique as a UTC.
It was wonderful to see the atrium packed full of students, parents and employer representatives joining us in our celebration, we look forward to hosting this annual event next year.