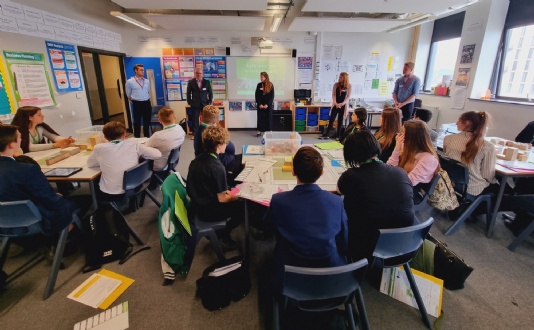 Our Yr10 Business Studies students were in for a treat when they took part in an UrbanPlan workshop designed and funded by Savills.
Savills provide consulting services and advice (such as valuation, building consultancy, project management, engineering & sustainability consultancy and environmental consultancy) in connection with commercial, residential, and agricultural properties, property-related financial services and investment management, which includes investment management for institutional or professional investors.
The cross curricular workshop covered Maths, Geography, PSHE and Enterprise and Developing Employability skills. Students were supported by professional facilitators and industry experts from Savills.
Working in 3 teams of up to 6 students, they were set a challenge to develop a Brownfield site, a challenge set based on a local council project. Each student in the team was allocated a set responsibility and contributed to a final presentation.
The presentation was judged by industry professionals from Savills. Thomas (Yr10) said he enjoyed playing the role of Finance Manager for the project, which was a crucial role in the team. He commented saying that it was important that he communicated updates on expenditure all whist ensuring the client brief was being met. He said, "The fact that professionals from Savills were judging our presentations made me nervous but at the same time it was great to get their feedback on how we performed as a group".