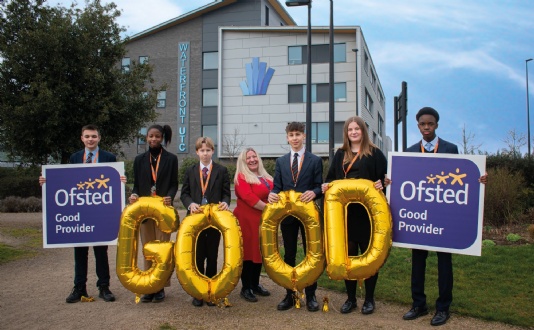 Waterfront UTC is officially rated "Good"
On 10-11 January 2023, Waterfront UTC received its first Ofsted inspection since joining The Howard Academy Trust upon the closure of the predecessor school Medway UTC, which was placed into Special Measures by Ofsted in 2018.
The school has been rated as Good in all categories within the education inspection framework. The report comments that "Leaders have a relentless focus on rapidly improving the school. More pupils now choose the UTC because of its increasing popularity"
The inspectors commented that leaders have developed "an ambitious and well-planned curriculum which links closely to the local needs of employers".
We are pleased that the inspection team commented that "Pupils develop independence and maturity. They behave well in lessons and at break and lunchtimes. Staff have high expectations for pupil's learning and behaviour…. As a result, pupils, as well as students in the sixth form, are happy and feel safe."
The school has four key values that all pupils work to develop and exhibit in every day school life known as "PIER" – Professional, Inquisitive, Engaged, Resilient. The values are embedded into everyday school life to ensure that well rounded, employable young people are ready to enter future employment and training. Inspectors noted "Pupils have positive attitudes towards learning. Many pupils praise the UTC for improving their learning, reflecting that they are glad that this is their school".
As a UTC, pupils are exposed to a range of national and local employer partners on a regular basis who provide specialised work experience opportunities and regularly provide workshops in the school during lesson time. This is part of the unique UTC experience linking learning to future employment.
Ofsted commented that "Pupils have plenty of opportunities to explore future careers. Importantly, they benefit from the regular contact they have with local employers who come into school. This helps to inspire them and helps them to think about the types of jobs they could pursue. It also helps with their learning. Work experience opportunities give them a chance to see what it is like to enter the world of work."
Fiona McLean, Head of School, said "I am delighted with our Ofsted report which recognises the hard work, commitment and dedication our staff have to ensuring that we are providing the best technical education for our students. Our students are a credit to us and this has been demonstrated during the visit but more importantly on a daily basis. Waterfront UTC works hard to ensure that students are treated as individuals and we are pleased that this has been recognised."
Owen McColgan, Chief Executive of The Howard Academy Trust, said "Waterfront UTC plays a key part in the educational landscape in Medway providing young people with a unique opportunity to study a technical curriculum within Engineering and Construction. Since The Howard Academy Trust sponsored the UTC in April 2019 there have been rapid improvements made to ensure that the young people attending the school access the best possible education. I am delighted that the hard work and dedication of our staff and The Howard Academy Trust have been recognised by inspectors"