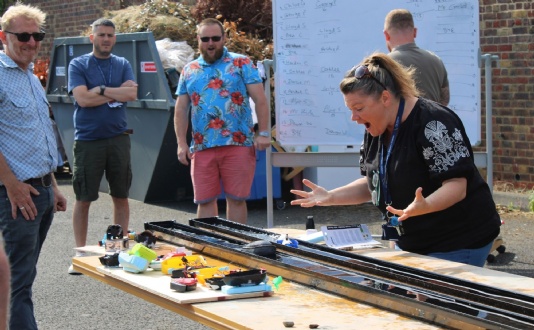 In celebration of our UTC Week, we took our students off timetable, and instead planned some exciting activities for them to take part in as we wind down for the school year.
This year saw a huge range of activities, on what may be our biggest UTC Week yet! Alltask Ltd joined us again this year to engage students in their scaffold activity, allowing our students to construct a scaffold structure under supervision. This activity was delivered to our Year 9 and 10 students where they also demonstrated and developed their interpersonal skills. Thank you again to Jim Scott and his team for organising and delivering such a great activity.
We continued our UTC week by organising a trip for our Year 9's to visit Ninja Warrior at Chatham Dockside. While students had the arena to themselves, some held a competitive streak when taking on the Ninja Warrior obstacle courses, whereas others chose to free jump on the inflatable course. Meanwhile, our Year 10 students received an assembly in the morning from an external speaker discussing the results of bad life choices related to crimes, followed by esports and sessions in the afternoon with representatives from CITB and Pantera Group. Within the CITB sessions, speakers encouraged students to broaden their minds when thinking about roles within construction. They discussed how roles in construction go way further than just wearing a hard hat and being on a construction site. Along with this, they also discussed different platforms which can be used to find careers within the industry.
Pantera delivered a hands on exercise where students from each class were split into three teams and competed to build a roof in the fastest time. Within these teams they also needed to calculate the costs of materials and wastage. Teamwork was key in this exercise which students demonstrated well as well as positive engagement. T
he week culminated in our annual boat race and rewards ceremony. The boat project, which Year 9 students have been working on, were put to the test in a race for victory! Students prepared and raced their boats, going head to head in pairs each round to secure a place in the final. Staff even participated, however even their boats were no match for Rocco's, who took the win! The energy was fantastic with cheers of encouragement coming from fellow students from Year 9 and other year groups. After the boat race, we had our rewards ceremony, where selected students from each year group were awarded with certificates and prizes in different areas where they excelled above and beyond. It was a perfect finish to a busy year, and we look forward to September, welcoming students old and new to Waterfront UTC.