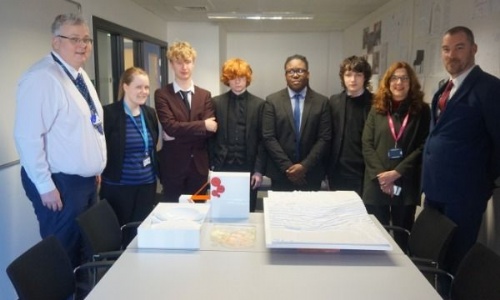 Since July 2018, Year 12 &13 students have been working on the live project called 'Command of the Heights'. Command of the Heights is a joint project between Medway Council and Fort Amherst Heritage Trust which has been funded by The Heritage Lottery Fund. Our students were commissioned to design and build a new model of the Fort Amherst site and surrounding area which will be on display in the visitor's centre.
On Thursday 6th February, Karen Francis HLF Command of the Heights Learning and Participation Officer collected models made by Waterfront UTC students including George Towse Perry, Calvin Androful, Harry Ralph, Aivhan Catacutan, Tom Langston, Shannon Kerrigan, Casey Gutsell and Ryan Brace.
This is an opportunity for our students to display and present their work to industry professionals.
The project is a perfect example of the UTC culture of working collaboratively alongside industry professionals in areas of Engineering and Construction.
The staff at Waterfront are very passionate about the fantastic opportunities our students receive and would love to welcome future engineers to our Open Evening on the 26th March, 18:00, to find out more.